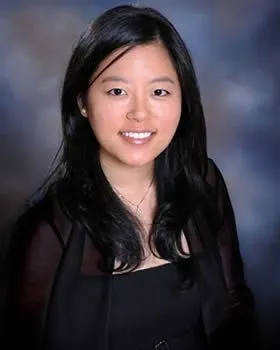 Dr. Ester Kim: Diplomate, American
Board of Pediatric Dentistry
Dr. Ester Kim
Pediatric Dentist
Dr. Ester Kim is thrilled to join our team of specialists at Frederick Pediatric Dentistry as a board-certified pediatric dentist. She was born and raised in Frederick County, and is excited to return home to practice pediatric dentistry.
Dr. Kim received her undergraduate degree from the University of Pennsylvania and earned her Doctoral degree at the University of Maryland in Baltimore. While in dental school, Dr. Kim was awarded the Lois Young-Thomas Memorial Scholarship and Leadership Guild Endowment. She also participated as a research assistant in a study of the pathophysiology of temporomandibular joint (TMJ) disorders.
Dr. Kim completed her general practice residency at Tufts University School of Dental Medicine in Boston, where significant emphasis was placed on caring for special-needs patients through the Tufts Dental Facilities (TDF). TDF is a partnership between the dental school and the state's Department of Developmental Services, and is the largest nationally recognized program of its kind, serving 7,000 patients at eight clinics throughout the state. She went on to complete her pediatric dentistry training at Tufts University, and Tufts Medical Center. During her residency, Dr. Kim completed a research project promoting oral health education for pregnant women at Tufts Medical Center. Dr. Kim also provided dental services through the Community Dental Health Program, which serves patients with developmental disabilities through sites including schools specifically for children with disabilities.
Dr. Kim is board certified as a Diplomate of the American Board of Pediatric Dentistry and is a member of the American Academy of Pediatric Dentistry and the Maryland Academy of Pediatric Dentistry.
Dr. Kim and her husband enjoy traveling, eating and spending time with family and friends.